Company Profile
Our company is owned and run by a local IT enthusiast, Mr Louis Loo. He is a self trained and hands on person with good knowledge and practice in the field of Data Recovery.
Mr Loo's interest on computers started with the very first Apple II in 1980's .He has been fiddling and learning at the same time about the intracacies and complexities of software and hardware of computers.
The passion and challenge of a successful recovery is much more than the monetary rewards that he actively requests friends and relatives who have problems with their hard disks to send it to him without any charges.
Concerned with the exhorbitant charges that data recovery centres are charging for his friends for a sometimes relatively simple task, he decides to launch Accplus Technologies to create alternative choice to the high-priced data recovery companies.
In order to further enhance and equip himself with the additional challenges, he went for specialised training in Data Recovery at Salvation Data in the Research Institute of Computer Application, Chinese Academy of Science, Chengdu Branch, China. He also brought in specialised and expensive tools to fully equip the company.
In addition, a Class 100 clean room was built in our Centre to allow us to open and examine the hard drives in a clean environment.
In a latest development, Accplus Technologies has acquired advanced data recovery tools from Canada. We are now fully equipped to meet the challenges of any data recovery demands, from drives that has hardware failure, head crashes and platters transplant to deleted files, virus infected files, missing files. We are able to offer competitive pricing which is affordable to most consumers.
In a matter of 9 years, Accplus Technologies has achieved much reputation for its integrity, fair pricing, transparency and honest dealings that it has attracted the attention our Government.
Accplus Technologies is now registered as a Government supplier of IT services to the level of S4 with a tendering capacity of up to $500,000. It has done data recovery services for various ministries, including Ministry of Law, Schools and community centres.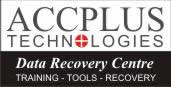 Tel: 65 62980819
Emergency: 65 96912628- Louis
Block 4, Jalan Bukit Ho Swee, #01-158, Singapore 162004